« Le Pétale » by Au Gré du Vent is absolutely unique in Belgium.

You are dreaming of rose petals ? Stay here. We are specialists on the Belgian market.
Our rose petals are longlasting, resistant and glamourous.  They are selected from high quality roses and not from common roses.
Each rose is manually processed to obtain its best petals and meet the quality standards of our company.  We are really proud to deliver such a quality.
Our special packaging process is performant and avoids last minute stress because you can keep them in the fridge up to 10 days before your event.
Please note that our rose petals are not edible.
Do you like dark red, beautiful purple ?  Or maybe would you like most cream, white, yellow, parma, orange or a multicolor effect …
Invite our rose petals to your event for an unforgettable experience.
Colours ?
White flake – Angel White Fire Yellow – Loving Pink Fuchsia – 
Purple Velvet Dark Orange – Red Passion 
Multicolours
(our selection)

How much do I need ?
Church : 1000 petals (min. 100 persons)
Table Decoration : min. 500 petals for 2 to 3 round tables (depends on the wanted effect)
Bath Petals : min. 500 petals (depends on the size of the bath…)
Wedding Night: from 500 to 1000 petals (depends on wanted the effect)
Our Packaging
200 petals represents 1liter freezing bag.
500 petals represents 3 liters freezing bag and covers about 60 to 70 cm².
For major quantities, we offer large packaging..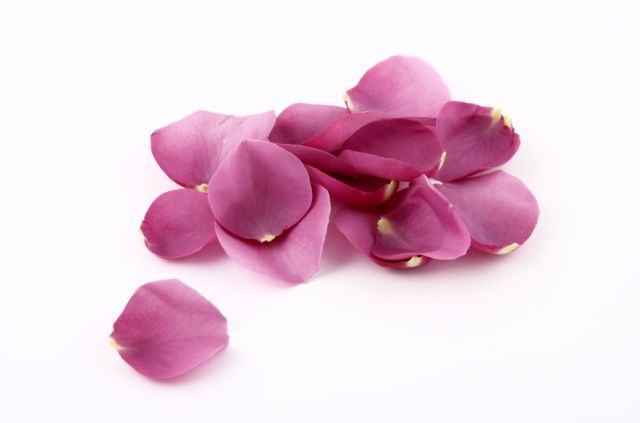 Durability
In their original packaging, you can preserve them up to 10 days in your fridge. This avoids last minute stress. At ambient temperature, about 16 to 24 hours.
It is highly recommended to install them the day of the event instead of the day before.
EXAMPLES
INDOOR
on tables (direct on the table, in vases,…) : 1 day
in your shop, displays, showroom : 1 day
in a fair (on your stand, …) : 8 to 12 hours (depending on the temperature)
to perfume a romantic bath : hours and hours (more over petals have beneficialeffects on your skin,…)
OUTDOOR
as a decoration in your garden, in a pool, in a fountain, on the grass : several days.

Delivery ?
About 48 hours after receipt of your payment on our bank account and in accordance with your needs.
We pay attention to the freshness of our petals. So we ensure a delivery which respects the required freshness conditions on each business day.
Free delivery in Gembloux and roundabouts. Between 5 and 15 euros depending on the destination (in Belgium)

For international deliveries, please contact us.
You can pick up our order directly at our shop Au Gré du Vent.
Monday : from 13:30 till 18:30
From Wednesday till Saturday : from 9:30 till 18:30
Closed on Monday morning and Tuesday.
On Public holidays or Christmas period, please check our opening hours in the contact section .